Le Wand
10 Distinct speeds with 20 vibration patterns
Sleek design with flexible neck provides focused vibration
Body-safe silicone head
Convenient travel case included
Please select a product option first
These Go Great With This
Le Wand
Description
Winner of Cosmopolitan's Sexcellence Award for "Most Powerful Sex Toy", the Le Wand Rechargeable Vibrating Massager is guaranteed to deliver intense and sensual pleasure. The luxurious massager has 10 distinctive, rumbly vibration speeds and 20 vibration patterns. Le Wand's sleek design provides focused vibration in the head of the wand. Powerful, penetrating pleasure is granted in the convenience and versatility of a rechargeable wand. Le Wand Rechargeable Vibrating Massager is a complete set that features a body-safe silicone head, flexible neck, convenient travel case and beautifully giftable packaging. 

This rumbly, rechargeable wand-style vibrator is ready to please you every which way! Equipped with a travel lock, it's ready to go on the road with you, and comes with a wall charger with an over-8-foot cord. (A 3-hour charge will yield 3 hours of use.) Le Wand's flexible neck allows the user to use plenty of pressure, if desired, and it won't hurt the vibrator.

Use the three one-touch button to control the 10 distinct speeds with 20 vibration patterns: the + button turns the vibe on and increases intensity; the - button turns it off and decreases intensity; and the middle button changes vibration patterns.

To use the travel lock: simultaneously press and hold the + and – buttons for 3 seconds. Flashing light indicates travel lock is on. To unlock, repeat by pressing and holding the + and – buttons for 3 seconds.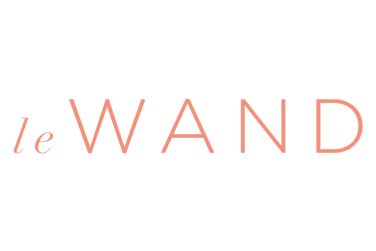 Brand: Le Wand
Product Details
Material: Silicone / ABS
Color: Pink or Grey or White
Power Source: Rechargeable
Length: 13.38 inches
Diameter: 1.97 inches